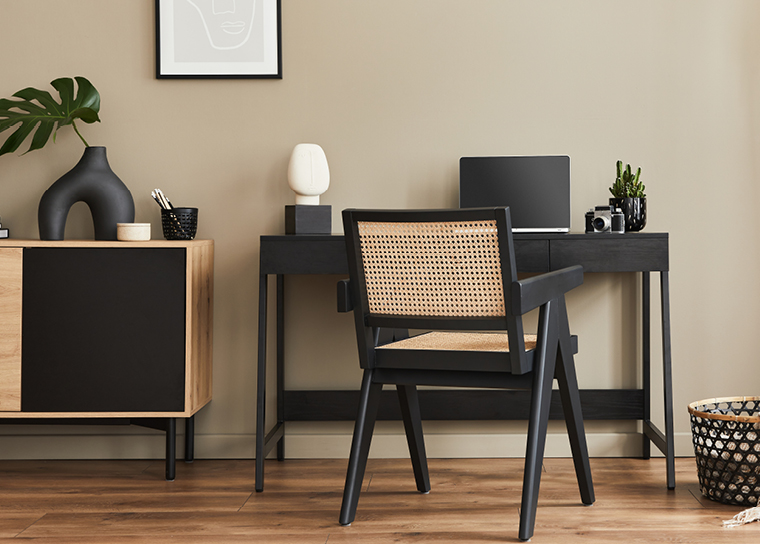 Working from home has become increasingly popular in the last few years, and creating a workspace that combines functionality with flair is essential to being your most productive self. We've looked at a few trends you can incorporate into your workspace to make it work harder for you.


Upcycled Items
Choosing pre-loved items is a planet-friendly choice that can be better for your bank balance too. Have a look at what you already have and can repurpose for your office – an old table can work wonderfully as a desk, or use two filing cabinets with a plank to create a desk with lots of storage.


Natural Materials
Natural wood, wicker, bamboo and rattan are big right now, being used for desks, chairs, and shelves. These natural textures give your workspace a warm and earthy atmosphere, creating a calming effect. Check out our stylish wooden desks or if you need extra storage, our natural-look Nimbus Chest of Drawers is an easy way to bring this trend into your home.


Minimalism
This design trend has been around for a while, and it will continue to be popular in the next few years. Emphasizing simplicity and clean lines, it's the perfect aesthetic for a clutter-free and focused workspace. Think neutral colours, open shelving and clean, geometric shapes. The focus is often more on functionality than style, but you can have the best of both worlds with the simply designed Taylor Office Chair – available in neutral grey or light brown.


Thoughtfully Chosen Colours
Colours can greatly influence your mood, so it's important to consider the emotion you wish to heighten when choosing colours for your office. For creative work, energy-boosting colours like rust work well, while bold yellows stimulate optimism and energy. To increase concentration and focus, consider calming blues, peaceful greens or neutral greys, like our Texas Office Chair. A budget-friendly and effortless way to add pops of colour to your home office is with accessories, like scatter cushions or rugs.


Ergonomic Furniture
You will be spending a lot of time in your home office, so it's important to select office furniture that is conducive to a more comfortable and productive workspace. Choose chairs that are designed to reduce strain and improve posture, like the Zodiac Black Office Chair or the Wyatt Office Chair.



To create an office space that works for you, take the trends you like and make them your own. Browse our range of office furniture now for more inspiration, and shop what you need at our lowest prices guaranteed.